Glide Write uses leading edge technology in precision machining.

We offer services in precision cutting materials as diverse as:
Hard, brittle ceramics and glass
Oxygen-free copper
Heat-treated tool steels.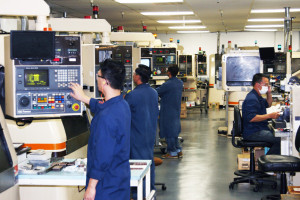 Multi-wheel gang arbor assemblies permit high volume applications, while single wheel adaptations provide unsurpassed accuracy for R&D and other operations.
Utilizing process control features such as MTIVision™ NT 3D parts alignment and inspection software, along with MTI's solid carbide, sintered, advanced electroplated, and resinoid diamond blades, Glide Write can assist you with your precision machining needs.